St. Petersburg with its elegance, its colors and architectural splendor, can be an excellent alternative for the honeymoon or for the celebration of wedding anniversaries, silver wedding or golden wedding, in a beautiful setting of the capital of the Tsars. It's also possible to organize a honeymoon tour package in Moscow, as well as you can choose any other destination in Russia or itineraries such as: the legendary Trans-Siberian, the romantic Volga river cruise, the adventurous Kamchatka.
This is why Russia is one of the most original destinations for a honeymoon. More and more couples are choosing this country as their honeymoon destination: Russia offers such a variety of travel proposals that have few equals in the world. Russian Tour can offer you various itineraries to spend an unforgettable honeymoon.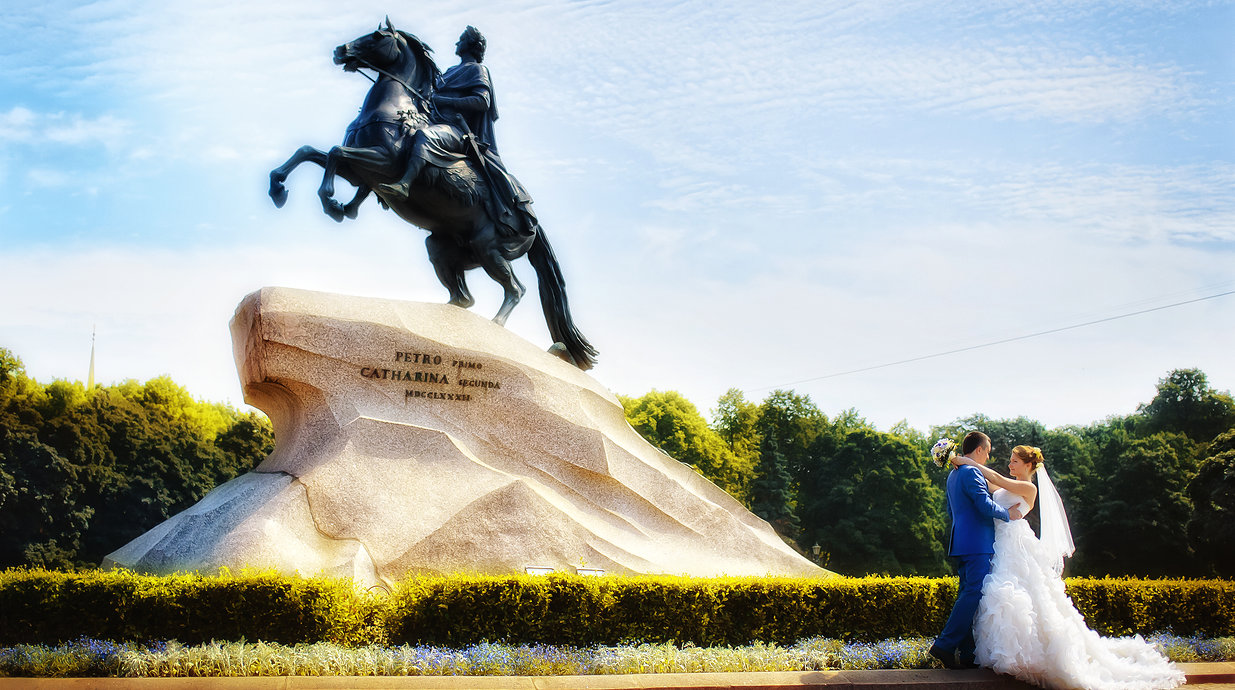 Russia, with its secular imperial history, invites us to discover its beauties also for the most important journey of a couple's life. To discover the most romantic places in the largest country in the world, your journey can start from a visit to an evocative place full of history, such as the Catherine Palace in St. Petersburg, a complex characterized by the sumptuousness of its decorations and rooms, in marble and gold, and by the beauty of its gardens, which allows you to relive the glories of the times of the Tsars. The visit to Petrodvorets, also situated in St.Petersburg,  and to the park with the fountains of Peterhof, by many renamed the Russian Versailles, is also inevitable. Peterhof is a palace of the tsars, on the shores of the Gulf of Finland, built by the will of Peter the Great between 1714 and 1723, and is part of the Seven Wonders of Russia. It's impossible not to mention another Wonder of Russia: St. Basil's Cathedral located on the Red Square in Moscow, with its fantastic colored domes. There is nothing more romantic than a sunset seen from the central square of Russia. Among the 7 Russian wonders there is also Lake Baikal, a must stop in the Trans-Siberian, which we also offer in the Imperial Russia version, for a truly unforgettable honeymoon! You can also choose a cruise from Moscow to St. Petersburg, navigation is done with modern ships and allows you to visit towns and villages in contact with the most authentic local traditions, with the history, culture and architecture of this country; or a tour of the Golden Ring, a collection of ancient cities with a glorious past and the great historical and architectural interest that host the oldest Russian monasteries with their masterpieces of art. And if you want to have a more "exotic" honeymoon, we can offer you even more original itineraries: the Black Sea with the beaches of the Krasnodar region (Anapa, Gelendzhik and Sochi), Volgograd with the Mamayev Kurgan park and the Mother Russia statue, up to get to the Valley of Geysers in Kamchatka!


For a personalized quotation you can send an email to  
This email address is being protected from spambots. You need JavaScript enabled to view it.
or contact us by phone at the toll-free number +18884873183