We are a group of young professionals inspired by a strong passion for Russia, its enchanting places, culture and traditions, and by the desire to share it with everyone! Our passion has driven us to achieve great things in the past and promises even greater things for the future! Thanks to over 15 years of on-the-ground experience working in the Russian incoming market, we are able to offer high-value fully customizable travel programs with top-notch personalized services.
Our company can offer you full 360 degree support on the territory of the Russian Federation: our guides, drivers and interpreters are ready to help you and guide you during your travel and our multilingual operators in our St Petersburg HQ Office are at your disposal to offer you immediate assistance and advice during your stay. We can support you with a vast array of touristic and business services:
Russian Tour International Ltd is a company included in the Registry of the Russian tour operators, with Reference number MBT 012877, and has a tour operator liability insurance contract stipulated with Liberty Strahovanie. Through Russian Tour it is possible to receive complete support for obtaining a visa for Russia and all other ex-USSR republics, to book a hotel in Moscow, in St. Petersburg or in any other Russian city, to rent apartments in St. Petersburg or in Moscow, to organize excursions in Saint Petersburg and in Moscow, to book transfers from and to the airport, tourist guides and interpreting services, to rent cars and buses, to reserve tickets for theaters, concerts, museums, ballets, to book flights, train and ship tickets, and much more! Our staff will provide you with constant assistance throughout the journey, from your arrival to your departure, responding in the best way to all your needs. Come and visit us in our office in St. Petersburg, Shpalernaya street 22, lit. A, pom. 9N, near the Chernishevskaya metro station, a few steps from the Summer Garden.
Russian Tour International Ltd.

Physical address: Uliza Shpalernaya 22, lit. A, pom. 9 N, 191123 San Pietroburgo
Legal address: Business Center Petrovsky Fort, ufficio 717, Finlyandskiy Prospekt 4a, 194044 San Pietroburgo
Tel: +78126470690 - Fax: +78126470690 *3
Toll free US number +18884873183
New York :    +16465862826
London:    442036951143
Skype: russiantour.international
Whatsapp: +74956470690
Indirizzo e-mail: This email address is being protected from spambots. You need JavaScript enabled to view it.             
INN (VAT code): 7802853888
Reference number: MBT 012877
Visto Russia Ltd.

Physical address: Uliza Shpalernaya 22, lit. A, pom. 9 N, 191123 San Pietroburgo
Legal address: Business Center Petrovsky Fort, ufficio 717, Finlyandskiy Prospekt 4a, 194044 San Pietroburgo
Tel: +78126470690 - Fax: +78126470690 *3
Toll free US number +18884873183
New York :    +16465862826
London:    442036951143
Skype: russiantour.international
Whatsapp: +74956470690
Indirizzo e-mail: This email address is being protected from spambots. You need JavaScript enabled to view it.             
INN (VAT code): 7802681004
Reference number: MBT 020790
Social networks:
Licence Tour Operator Russia: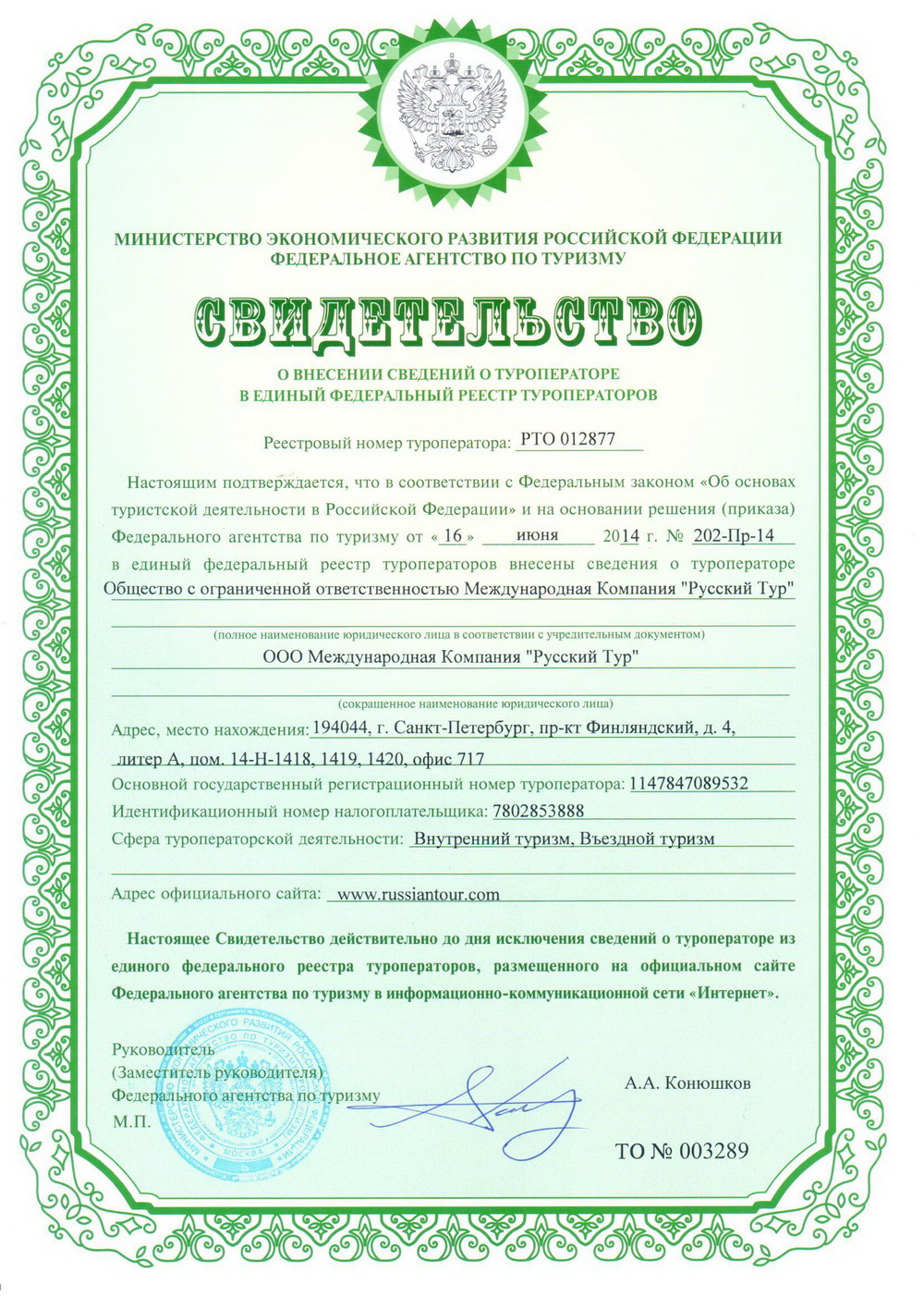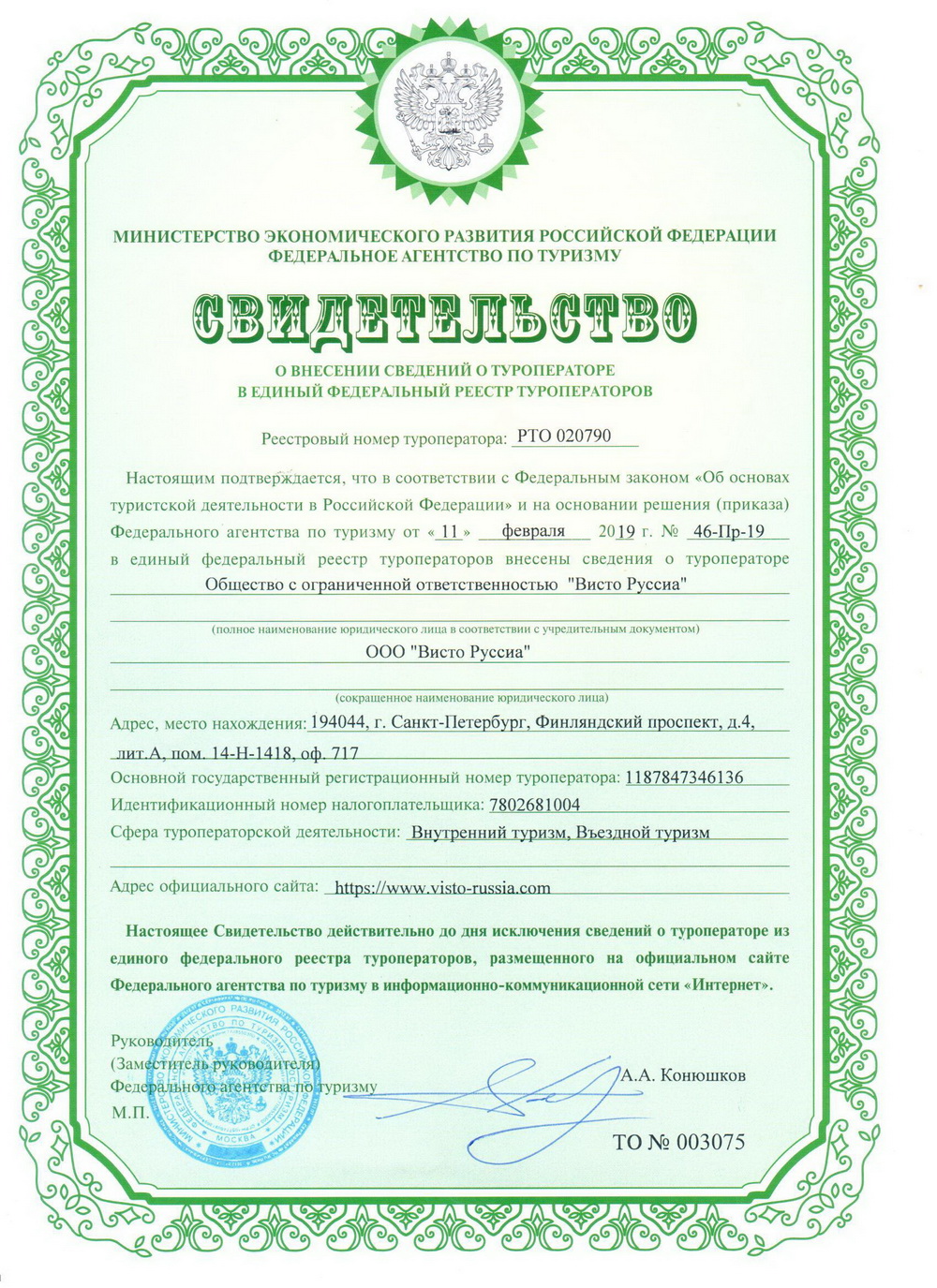 Russian Tour is a registered trademark (TM):